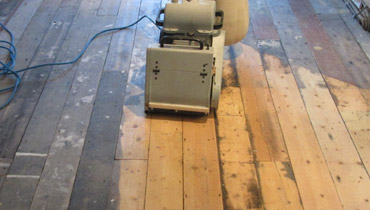 Italians always say it the best, so we are going once again to use their definition, which totally applies to the way you are going to experience our excellent wood floor restoration service if you hire us for your St Albans project. "Dolce far niente" is an old Italian expression or the way we call it here – sweet doing nothing. That is right, by hiring our company to deal with your worn hardwood in poor condition you don't simply get professionally performed service and flawless results, but the free time you have always dreamed of. Let's be real, sanding can confuse and embarrass even the most confident handyman, so your smartest option is to leave the task in the expert hands of our technicians and enjoy having free time to explore St Albans area and do your hobbies. In addition, you are also going to save money that way, because we cannot remember one single time when a DIY sanding project hasn't ended up with contingency.
If you are tired of the Italian rustic and distressed look of the timber, it is probably about time to call us for excellent wood floor renovation. Generally, sanding is part of the whole floor restoration concept and usually is preceded by some repairs, if the condition requires it. Sanding by itself can't fix major issues such as loose timbers, damages due to humidity and sun exposure, deep dents and non-structural gaps, which are often a sign for future cracking, etc. What sanding will do for your floor is stripping off the worn finish and dirt build-ups. Since hardwood timbers are a completely natural and low-manufactured product, sanding can go further and remove the distressed and scratched layer of the bare wood's surface underneath. It is also helpful for you to know that solid wood can be sanded a few times, however, we don't allow unsuccessful attempts and always provide additional information on how to maintain the best in order to save the effect long-lasting.
What the benefits sanding are, your floor will improve not only in terms of vision but also instability. Removing all imperfections, scratches and little gaps is your preventive maintenance, helping your installation to serve you for the longest time to come. If you wonder why to hire exactly our company to do the job for you in St Albans, here are a few ideas. We work with exceptionally contemporary dust-free equipment, which allows us to leave the project completely tidy and no-mess and save you time, energy and money. In addition, we believe we have a unique approach and can find the best solution for your scenario, keeping them in mind your personal requirements, ideas, needs and desires. We are also happy to be able to provide all this at moderate prices, which will surprise you positively.
In conclusion, we are ready to help you with the restoration of your solid wood floor in St Albans whenever you want to contact us!