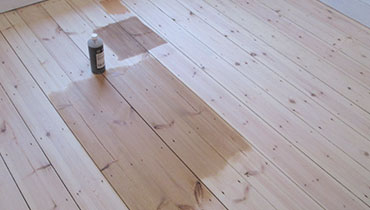 There is nothing else to beat the appearance of wooden flooring. It is welcoming in alluring, fitted in any room, in any house, creating a classic and elegant setting or also contemporary and eccentric. The diversity of styles, patterns, colours and material is able to suit and match every style and requirements. Wooden flooring is also a great option for commercial and business premises because it creates a customer- and visitor-friendly setting, being a sign of professionalism and prestige. We can mention more and more benefits of having this eco-friendly, hygienic and sturdy option for wood floors are, however, we don't think it needs extra advertising since so many people to opt for hardwood, engineered wood or parquet floors. However, we think it is important to remind you, no matter how high quality and well maintenance your floor is, it needs additional care from time to time, which includes floor sanding. And we can promise you not only flawless sanding outcomes and impressive results but also timely, affordable and tidy service in St Albans.
Floor Renovation Done By Professionals
The secret behind our reputation and why we are the favourite flooring company in St Albans is actually not a secret! Many people, planning a wood floor restoration service in St Albans, prefer our company because we always stand behind our promises. We will completely transform and restore the initial beauty and condition of every floor. The main concept of sanding is to remove any minor imperfections from the surface, which includes worn finish and dirt build-ups and also finer scratches and dents, stains, worn patches from the top layer of the bare wood underneath. However, if the floor is in really bad condition, sanding is just not enough. Our experts provide free site visit and diagnosing the floor in order to recommend additional repairs and restoration if needed. Fixing loose planks and timber, uneven patches due to humidity and other interior and exterior reasons, is the only way to prepare the floor for the upcoming sanding, sealing and staining.
Durable Floor Finishes
Sealing is better performed right after sanding, because the pores of the wood are open and the finishing products will soak successfully, making the surface sleek, the whole structure – sturdy and durable, and adding prevention and protection. Staining is also recommended after sanding because if the surface of the floor is not completely even and sleek, colour pigments will highlight every imperfection. Floor staining is the service that will help you to match easily your wood flooring with your interior design.
Dust-Free Floor Restoration
Choosing our experts for sanding your wooden floor in St Albans is your best option. In fact, during the years we work in the branch, we've managed to accumulate enough experience and knowledge to handle every situation and satisfy all the demands and desires of our domestic and commercial clients. Being well-trained and skilled gives us also the confidence to guarantee for convenience for our clients before, during and after the service. We perform sanding strictly following the highest working and safety standards. We also work with contemporary and almost completely dust-free equipment, which will save you time, money and energy.
Wood Floor Cleaning & Aftercare Guide
Keep up the aesthetic feel of your place with a good maintenance routine for your refurbished wood floors. Cleaning could one of the best preventive measurements. It won't require expensive equipment, but you need knowledge about the different wood species. Every type of timber has to be treated with a proper product, and our qualified floor men will help you with advice about it. A good maintenance routine will keep the good condition of your flooring's top layer for much longer.
School Flooring Services in St Albans
Many think that school floor restoration is a process involving a lot of dust and hassle. A process that is not only time-consuming but expensive as well. It could be. But not if we do it! As a contractor specialising in school floor restoration, we use high-quality belt sanders for a completely dust-free experience and our schedules can be tailored to fit the requirements of our customers. Our school flooring services are the best in St Albans because with us you get exactly what you want and when you want it without having the regular flow of school life interrupted.
---
Did you know that the St Albans Cathedral was founded by the Saxon king Offa II of Mercia in the 8th century. It is known to be the second-longest cathedral in the UK right after the one located in Winchester. It still possesses the longest nave in all of England.
Very happy. Very good overall.
Wonderful job done. Quick and efficient. Very pleased.
Wonderful job done. Quick and efficient. Very pleased.