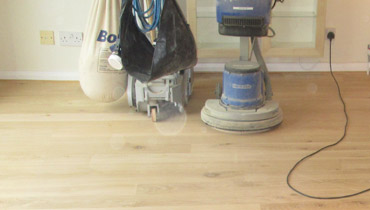 Our experts are the flooring superstars not even in St Albans area, but worldwide. Well, not really, because the flooring branch has nothing to do with popularity and fame, but if we were actors, for example, we would have our own star on the Hollywood alley, this is how professional we are and how many fans, a.k.a. loyal customers we have. And since we don't work for popularity, although we have a perfect reputation in St Albans, we will share with you our main goal is to achieve the wooden floor everyone is striving to own in their property, being their home or working space. We recognise the power the good looking and cosy environment have, so we try to create that for our customers and to keep that effect for as long as possible.
We achieve our goals by providing professional and pleasant sanding services in St Albans. Engineered floor restoration is one of our pride since it is well-known as a tricky task. The challenge of sanding an engineered wood construction comes from the structure of the product. Engineered wood is a manufactured product, made from plywood or lumber material layers glued together and finished with a real wood top layer, which is thin and delicate. Don't let this fact mislead you, because engineered wood is pretty hard-wearing and durable, however, it needs a different technique when it comes to sanding.
In the difference of hardwood, engineered wood threatens to be completely destroyed if not sanded the proper way. The proper way, in fact, requires a lot of attention and a precise eye, which only a professional and experienced sanding team can offer. You can't neglect also the equipment used and as modern and right for the project, it is, as flawless the results are, as timely the whole service will be. We count on the best quality equipment and products available, so we can match them to our hard work and professionalism. Being a leading name in the branch comes with its responsibilities and our favourite one is to meet all the expectations of our clients, this is the reason everyone believes we are a reliable company.
Sanding will smooth out the surface of the construction ideally. It will remove scratches and dents, gaps and stains, any imperfection in general. If accompanied by repairs, when the floor requires it, the whole restoration service will create a structure, which can survive everyday use and high traffic for decades. Top all this with the visual improvement you will get. Sleek and even surface, ready to be finished and even coloured with the products of your choice, every time with a high-quality guarantee.
Be sure to get in touch with our friendly and helpful customer service if you need additional information. You can call us on 020 70360624 or contact us through the contact form of our website.