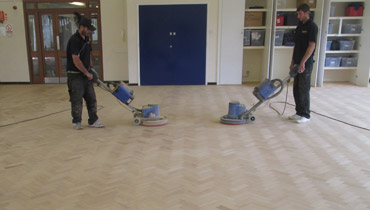 Our qualified floor men recognise the requirements of our business clients and that way managed to select the whole package of necessary services and to create our commercial floor restoration service, which is ideal for the business-schedules of our commercial clients. From the museum, schools and colleges to clubs, restaurants, offices, our main aim is to provide perfect results and tidy performance without taking too much from the working time and make you spend too much energy on one single project in St Albans.
Of course, since we believe every project is individual and needs a personal approach, we keep in mind your demands and desires and adapt our service to them, however, we can guarantee the best outcomes possible in any scenario. Being a leading name on the market with the ultimate professional, skilled and well-trained team of technicians and experts in the sanding area allows us to react adequately and with competence even in unexpected conditions, so be sure to contact us for professional, timely and also affordable commercial floor renovation strategy for St Albans premises.
Sanding the wood floors in large-scale areas, just like any sanding procedure, will revive and restore the initial condition and beauty of the floor. By removing every imperfection from the surface such as dents, finer scratches and gaps, stains and little damages, it will create a welcoming and professional-looking surface, which will draw clients in and be a sign of competence, care and prestige. You even cannot imagine how powerful the ambience and the setting of the working space can be not only for clients and visitors, also for you, your co-workers and everyone spending the day in this setting. And since every floor is the focal point of the room, showing it some love means investing in your business wisely.
Once the wood's surface is sanded and completely and evenly smooth, you have to consider hiring sealing experts, because the application of finishing products will not only create that sleek look everyone dream of but also protect the whole flooring structure from major issues. If these major issues are there already right at the start of the sanding procedure, every skilled and reliable technic will recommend prior repairs. Our experts always diagnose the floor and inspect for problems, which are probably going to grow bigger with time and because of the affection of the high traffic and cannot be removed by sanding and we always fix them, in order to create the perfect and sturdy base.
We are true professionals in our field, so we guess we are the right choice for each professional in St Albans, since we know time is money and we always try to save you as much time and money as possible without skipping, of course, important stages of the process. When time and budget is limited, most of the sanding companies perform poor quality, but this is not the case with us. Besides the flawless results after our sanding system, we can guarantee also timely and prompt performance, affordable prices and we will leave your working space completely clean and tidy because we work with almost completely dust-free equipment.